Wednesday, April 08, 2009
Sunday, April 05, 2009
From the Sustainable Home Front
by Patti Moreno, the Garden Girl


Well this is certainly turning into a busy month for me on my
Urban Farmette. My daughter and I started 880 plants in my
hydroponic seed starting factory. Many have already started sprouting! Visit Vegetable Gardener to watch the video on how I do it!
Also on VegetableGardener.com check out my brand new video, How To Make Maple Syrup. I had no idea it was so simple!

Check out the first installment of my regular column over at

Organic Gardening Magazine

called The Basics. To subscribe to the magazine
CLICK HERE, and
check out my page at OrganicGardening.com by clicking here.
I will be doing a workshop on
March
28th at the Gardeners Gathering here in Boston. I will be discussing
culinary companion gardening
techniques. To find out more information, click this link.


This month's ezine features Square Foot Gardening Tips with me
and Mel, plus a little advise from Mel himself.


Remember t
o please help support the efforts of our great video contributors by rating, commenting, favoriting, and subscribing to our video channels.



There's also lots of contests this month

. Don't forget to participate.
Please forward this email around to everyone you know and share a little green living inspiration with others.
Patti Moreno, the Garden Girl
cover photo by Savannah Cavanaugh


Spring Chickens!



By Frederick Dunn
Fred's Fine Fowl
You've selected your breed, ordered through a hatchery... now what? In this article, we'll cover what to expect after you've ordered your birds.
How to Order Mail-Order Chicks:
Day old chicks are shipped via Priority Mail here in the United States. Since you order well in advance, there is no way to know what the weather will be doing on the day of their arrival. Don't delay in collecting our day old chicks from the Post Office, every minute counts at your end! As you may imagine, shipping chicks (normally 25 at a time), is stressful for the buyer and the birds. You should have a proper brooding area set up well in advance. A brooder is simply a space, large enough for the chicks you've ordered, that shields them from drafts, protects them from pets and provides warmth. On average, start brooder temps at 95 deg. F and step down five degrees per week after. Portions of the brooder should be cooler, allowing the chicks to choose their individual comfort level. Here is another informational video, showing a simple brooder made from a glass reptile tank. Yes, right in my kitchen!

Setting Up a Brooder for the Babies:
There are brooder kits available from online resources, the requirements remain the same... shelter and warmth. Some people will allow the chicks to cool down too quickly... stating "they are doing fine and don't seem to mind". That's true and they may feather early with cooler brooder temps... however, by keeping warm temps and gradually reducing by five degrees/week, the chick is able to concentrate its nutritional resources on organ and skeletal growth and development. By cooling too soon, those resources go to feathering and chick survival instead. Adjust warmth in the brooder (stepping down 5 deg./wk), until it matches outside/or room temperatures. When weather permits, allow chicks out to forage for tiny bugs and sand bits, along with the odd blade of grass. Chicks introduced to wider environments early on, are more adventurous later in life and are more effective foragers. My general rule is that at six weeks of age, if properly nourished and maintained, chicks may be introduced to the normal coop environment. They should be completely feathered out and are now called pullets (female) and cockerels (male).
Watch Them Grow!
After the sixth week and they are introduced to their ultimate environment, you'll have approximately a five month wait for the first round of eggs to begin. Some breeds may come into lay as early as 4 months, while others not until 6 months. Remember my information about starting your chicks with proper temps? If they are cool in the brooder, or have inadequate feed, laying quality and onset may also be affected/delayed. If you've hatched your own fertile eggs, after the hatch, the procedure is the same. Of course, there is an outstanding incubator out there, it requires no electricity, turns eggs automatically, comes adjusted from the manufacturer and will educate the chicks after hatching... it's the mother hen ("> we can make no improvements on her.

Frederick J. Dunn
Fred's Fine Fowl www.FredsFineFowl.com


CLICK HERE BUY FREDS FOUR HOUR DVD: REGARDING CHICKENS

Here are a couple more Videos from Garden Girl TV(Just Click the Pic to see the Video):


How to Build a Chicken Tractor Part One:
A
Simple Chicken Brooder
for Day Old Chicks:




For those of you in Massachusetts that want to order chickens visit Hardwick Farmer's Co-op for more information.

Win a garden's worth of Patti's Heirloom Seeds!
Fine Gardening's "Signs of Spring" Contest:
T
he prize: Six Garden Girl TV Heirloom Seed packs (American Kitchen Garden Salads, Italian Kitchen Garden Culinary Herbs, Latin-Caribbean Kitchen Garden Vegetables, Asian Kitchen Garden Chinese Stir-Fry, Italian Kitchen Garden Gourmet Tomato Sauce, French Kitchen Garden Salads) from the Gardening by Cuisine Heirloom Seed Collection valued at $77.70.
The Family Garden:
20 things to help get the youngest in the family involved in the garden!
Ever wish you could get the family more excited and involved in the garden? Here are some tips to help make that happen:
Start with a trip to the grocery or farmer's market. Let the kids show you what fruits and vegetables they like. Do some "compare and contrast" to talk about varieties - so leafy lettuce looks different than romaine, etc. Hopefully you'll be able to do some tasting too.
Let each child select seeds to order from seed catalogues or from the seed packet displays at the grocery. Get them to talk to you about how they make their decisions (why this variety of tomato vs. that one)
Divide up the garden so each family member can plant and tend her own garden. Square Foot Gardening is GREAT for this.
Give each child a package of sunflower seeds and let them sprinkle them wherever they like, then watch them sprout and bloom throughout the summer.
Be sure to plant a variety of seeds including some that sprout FAST and some that are slow. Sprout some seeds on wet paper towels so you can watch the progress indoors.
Put a bird feeder in or near the garden - birds are great help with pest control. The birds might eat some of the harvest, but they usually leave plenty.
Choose at least one new plant to grow each year - and make sure the family knows you are experimenting. You'll all try a new food and its more fun when everyone is learning together
Grow pumpkins, watermelon, corn, peas, cherry tomatoes, anything "funny colored" like red carrots or purple beans.
Get a few garden implements that the kids can really use. Hardware and garden stores and websites usually carry smaller trowels, and hand tools that can give the kids success. Try to stay away from buying the plastic rakes and shovels that don't really work and break easily.
Get everyone involved in harvesting. Kids love picking beans, pulling up carrots and radishes, picking strawberries or grapes.
Make a big deal about harvesting - show off the basket of fresh food to everyone in the family and then try to eat a least some of it for your next meal.
If your garden space allows, put a table and chairs or a bench to your garden.
Have dinner or afternoon tea in the garden.
Invite the neighbors over for cocktails made with some of your garden herbs.
Add a birdbath - Its so much fun to watch the animals drink and bathe.
Let the kids release ladybugs.
Make a worm-composting bin and let the kids be in charge of tending it. Worms are fun!
An older child can install and tend a rain barrel for the garden watering.
Even adults can be intimidated by knowing what to harvest. Show your sweetie how to tell if the tomato is ripe, or how to choose lettuces, onions, whatever. Then hand them the harvesting basket and YOU go take a break while they experiment, learn, taste, and have fun.
Just for fun, see if you and the family can make a favorite food - like a peanut butter and jelly sandwich from scratch! Can you grow nuts in your area? If not, try grinding nuts into nut-butter at the grocery. Do berries or grapes grow in your area? Grow your own, or buy some at the market and make some fresh jelly or jam. Even if you can't grow your own wheat, make a fresh loaf of bread and have your homemade PB&J sandwiches.
Cynthia McKenna is a writer, gardener, Episcopal Priest, and psychotherapist in the Texas Hill Country.
To visit her blog click: http://gardengateblog.com

CHECK OUT THIS VIDEO FROM GARDEN GIRL TV:
GARDENING WITH KIDS
Win TWO Bing Cherry Trees!
Retail Value of $60.00!


The Bing Cherry is one of the finest commercial sweet cherries and it is the most famous sweet cherry variety. It produces a very large, delicious cherry that ranges in color from a deep garnet to almost black. The skin is smooth and glossy and the flesh firm and sweet. Bing cherries are good for cooking as well as out-of-hand eating. The flesh is very solid, reddish-purple in color, and is flavorful and juicy. The Bing Cherry tree requires cross-pollination to produce fruit.
Meet Some of our Contributors from over at the Garden Girl TV

Messageboard
Check out what is happening at their Homesteads!

Plant One On Me
HomesteadBaker
"Success with bare rooted trees"
By the Produce Garden


"Bare rooted season is over" I can hear you saying, but have no fear, I'm writing this for the people who bought bare rooted trees this season and are maybe now thinking, "what happens now?" and also for the people who may have seen those barren sticks in their local nursery but were too reluctant to give them a go.

Bare rooted means just that, while the trees are in their dormant winter state they are up rooted and distributed to nurseries and sold to us public for a fraction of their potted price. The choices are unlimited ranging from fruit trees to maples, crepe myrtles, lilacs and even mop top robinias. If you are after a certain tree and you would like it during bare rooted season then orders are best placed a few months before hand, say mid autumn. Nurseries will happily accommodate the order and call you when the tree has come in. I must admit that a good 80% of my trees were originally bare rooted and practically all the fruit trees in my small orchard were as well.

Most trees that come in during bare rooted are about two years old and you shouldn't expect much from them for the first two years after that. What I really wanted to do here was give an order of play. You've bought your tree, you've got it home...now what?


First thing to remember is that we don't want the root system to dry out, this will spell a likely end for it. The day before you're due to pick up the tree decide where it's going to be planted and dig the hole. Depending on the height of the tree you need to dig the hole twice the size of the root system so the new roots have an easy access for that spring growth. If where you're digging is particularly dry then give it a good hose so the water is soaked up over night and gives the tree a good surrounding moisture.

If you can't plant your tree straight away from the nursery, leave it with the roots in a bucket of water for the night but try not to leave it like that any longer than one night. Before the tree goes in the hole, hammer the stake in first if it needs one, this will eliminate the risk of hammering through the root system once it has been buried.

Ok, put the tree in the ground taking care to fill in all gaps around the roots so as not to leave any air pockets, as you fill in the hole compact it in lightly but firmly and leave a good two to three inches exposed from the graft. I always use a plant starter when I first water in my bare rooted trees as this promotes the new root system and reduces the shock of transplantation on the tree. You only need a couple of capfuls in a nine-litre watering can, do this for the first watering and again in a weeks time. Not forgetting to water it in between mind you.


You may notice (especially with fruit trees) that your tree is quite long and rather formless. It's bolted in growth for the last year or two and hasn't been pruned. This is always the hardest thing to do but you'll have to prune it to force out the lower branches. This means cutting off at least a third of the main crown and totally cutting off any stragglers that have shot out. Get the nursery staff to show you how to do this for future reference and ask them to explain as they go. Try to prune to an outward facing bud and always on a slight angle. Our lovely long and full of hope tree is now a shadow of its former self but this is for both of your best interests. Pruning the tree back forces it to branch out, ie: more branches=more foliage=more fruit, and because the size of the tree has diminished this leaves the tree with more energy to put back into establishing its root system.

Fruit trees are (in my eyes) going to be the most rewarding for all of this initial harshness. The extra branches will in turn bring extra fruit, which also brings me to my next tip. For the first two seasons of your fruit tree, pick off any fruit that is starting to form. This is especially important for the first season as we really want the tree to put its energy into growth rather than fruit production. In the long run a bigger tree with a better shape is going to yield more fruit. This isn't too hard the first year as it may not produce much but it may the second and you may find it hard to pick off forming fruit. After all you have been taking care of it for the past couple of years and wouldn't mind a kick back or two. If you are struggling to take off the fruit this second season then just pick off half and let half ripen so you can at least get something for your efforts. The final and most golden rule when buying bare rooted or for that matter potted fruit trees, is to check its pollination requirements. Does it require a cross pollinator? Some trees, for example, Morello cherries are self-pollinating, so a solo tree will bare its own fruit. But most require another of the same variety, ie: a Williams pear will pollinate and produce if paired with a Beurre Bosc pear. ALWAYS ask the nursery staff this before you buy. If space is limited in your garden you might consider buying a multi-graft, which is one tree with two or more varieties grafted on, thus pollinating itself. Or you may even consider a dwarfing variety, which can be successfully grown in pots. Dwarf varieties available are usually peach, nectarine and apple.


After all those years of hard graft you should be away, the tree will be well and truly established and in the case of fruit trees you should by now be saving your pennies for the bird netting you'll need to protect the next years produce. I feed my trees with a pelleted organic food three times a year, a good handful at the base of the tree early spring, early summer and autumn, which seems to work well for me. In my "orchard" my bare rooted trees consist of apricots, almonds, pomegranates, cherries, figs, plums, pears and quinces. As far as the rest of the garden goes I've had great bare rooted success with maples, silver birches, robinias, different kinds of prunus and a nice little lilac or two.

Bare rooted season can leave a few people apprehensive but it need not, if you follow the guidelines you'll be fine. But, ever so occasionally a bare rooted tree just won't take and you'll lose it despite your best efforts. Don't despair, it wasn't meant to be, there's always next season. If you have any questions feel free to contact me at

theproducegarden@yahoo.com.au or check me out at www.youtube.com/theproducegarden


SUSTAINABLE HEALTH
Is there a boundary between
Food and Medicine?

by Edgar Milford M.D.
Patti invited me to contribute to her ezine and I eagerly accepted because I know that what she is doing is so important. I am a practicing physician in Boston, a Medical School professor, and a researcher. I find that teaching is mostly a process of "enabling" students, providing them with resources for learning by themselves But the fun part of teaching and writing is giving a few specifics that might spark interest and give the reader just enough energy to try something on their own.
Research is a process of attempting something, either something that you have not tried before or something that noone has tried before. That is how new knowledge is created. A lot of the fun in research is sharing ones findings with others'. It is beautiful to see how Garden
Girl has empowered novices and ancient gardeners like me to renew their efforts at urban gardening through example . The more examples, the more likely to find something to spark interest, and just one thing is enough.
Growing up in a tiny hamlet nestled in a Hudson River valley, I can remember only once when any of my family took "pills" for illnesses. My dad was a physician, one of the first immigrants from Haiti, and my mom was a schoolteacher of mixed-blood Native American ancestry. Both of them turned first to "food, fields, and forest" to keep us healthy and hasten recovery from
illnesses. I later realized that many of the things they were using as "medicines" were actually just things which were foods.
Turning it around, that meant that many of the things we think of as 'foods" are also medicines!! In fact, if we think of medicines as things which get into the body and have an effect on our physiology, then most foods fit the bill. The boundary between food and medicine, between dietary supplement and medicine, between spices and herbs and medicine can be murky. From time-to-time I will present you with some interesting things I have run into since the 1940s. I will try to make them relevant to the urban gardener, and hope you will try new things as a result, or just look at things you have taken for granted in a different way.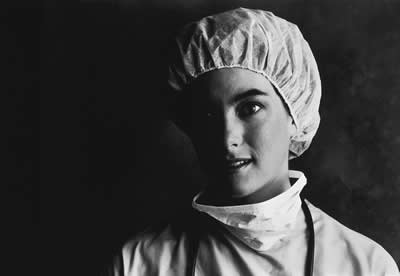 What they Didn't Teach at Medical School

by Kathryn Hayward, M.D.

While I was in residency training at Carney Hospital in Dorchester, Mass, I worked part-time at Polaroid Corporation, in their Occupational Medicine Department. One day, Mr. Jones came to see me for right foot pain. He was pleasant, thin and athletic, and ran several miles every day. He was honest with me: "I need to run. My job here is really stressful, and running helps me relieve stress."

I did an xray of his foot and learned he had a bone spur on his heel, a little growth of bone that came from the trauma of pounding the pavement. I felt the relief of having a secure diagnosis, and confidently told him that to relieve his pain, he would have to rest and ice the foot and take anti-inflammatory medicines. A look of panic flashed across his face. "You don't understand, doctor. I have to run." I patiently repeated to him my advice and let him know our time was up. I watched him limp down the hall.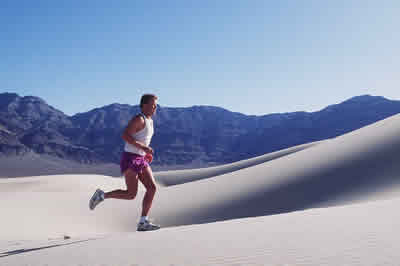 Mr. Jones became a weekly visitor to my office. He was polite but increasingly irritated by his lack of improvement. He kept running; he couldn't help it. Soon his left hip began to hurt from running off kilter. His pleasant demeanor became one of mounting frustration. I referred him to an orthopedist, who injected cortisone and told him to rest the foot. But Mr. Jones just couldn't take a break from running.

A couple of weeks later, Mr. Jones entered my office walking normally. I expressed my happiness at seeing him pain free, but his facial expression was angry. "I ought to sue you for malpractice." I sat back in my chair and listened to his words as they spilled out. "You and the specialist didn't help me at all. Finally I tried acupuncture, and my foot and hip were better within three treatments. Why didn't you tell me that acupuncture would have saved me all these months of pain and aggravation?"


I was stunned. I had little to say, and mumbled something about not knowing anything about acupuncture. I lamely expressed my happiness that he was feeling better, and he left my office in strong, angry strides.

With humility, I phoned the New England School of Acupuncture in Watertown, Mass. When the secretary answered the phone, I said, "I'm an internist and need to speak with someone who can teach me about how acupuncture can help my patients." "Oh yes, let me give you the phone number of our Dean, whose name is Dr. Tsai."



Though worldwide honey bee health has been on the decline since the 1980's, it wasn't until the fall of 2006 that beekeepers nation wide began noticing honey bee colonies disappearing in large numbers without known reason. This syndrome, named Colony Collapse Disorder or CCD, is characterized by the disappearance of adult honey bees from the hive, leaving the newborns to fend for themselves. During the winter of 2006, some beekeepers reported losing 30-90 percent of their hives. Though some loss is expected during the winter, this loss was much higher than normal. It's no secret human mothers, on occasion, fantasize about becoming a deadbeat mom and catching a one-way flight, alone, to the tropics, packing only a swim suit, lipstick, novel and Ipod. Honey bees, on the other hand, actually like the constant chitter-chatter of a buzzing brood. Queen bees are usually fiercely maternal. It's unlikely they would abandon their hive even on a really bad day of motherhood.
So far CCD has been reported in thirty-six states around the country. Beekeepers are facing bankruptcy while farmers are substantially losing crops and hope. According to the USDA, the direct value of honey bee pollination to U. S. agriculture is more than $15 billion dollars. It's now estimated that 1/3 of bees in the U.S. have disappeared. Italy, Poland, Portugal, Spain, Central and South America have also reported a mass exodus of bees, and recently beekeepers in Croatia reported that 5 million bees disappeared in less than 48 hours. If honeybees continue to disappear at this rate, some scientists predict we could lose all honey bees by 2035.
Researchers globally are still trying to pin down the cause or causes of this mysterious ailment. Most entomologists agree that a combination of factors are involved: exposure to pesticides, industrialization, urbanization and disruption of habitat, water pollution, climate change, the Israeli Acute Paralysis Virus, the Varroa mite and literally trucking bee hives around the world to pollinate crops. However, the curious part of CCD is this: According to Eric Mussen, apiary specialist at the University of California in Davis, "The first documented cases of CCD occurred in the late 1800's, long before modern day agricultural practices could play a part."
The good news is 75% of US beekeepers have actually never noticed a problem with their hives. Among the remaining 25% who have reported some apparent CCD like symptoms, the severity of the problem has ranged anywhere from a slight reduction in the number of workers to complete collapse of the hive. Many of these apiary operations have been through CCD and recovered, which suggests that resistance may be growing within the bee population.
Why should we care so much about the bees? Don't killer bees stalk humans for half a mile just like in the movies? Mea McNeil, President of the Marin County Beekeepers Association, reminds us, "Most bees are beneficial, fuzzy, shy vegetarians, not the aggressive, meat eating wasps that ruin your outdoor dining. We should care deeply about the disappearing honey bee if we like to eat food." Honey bees (Apis mellifera) are "polylectic" which means they feed on just about anything that's blooming. Besides gathering nectar to produce honey, honey bees pollinate agricultural crops, home gardens, orchards and wildlife habitat. As they travel from blossom to blossom in search of nectar, pollen (male sperm) sticks to their furry body and is transferred to another flowering blossom enabling it to swell into a ripened fruit. Bees have been doing this for nearly 100 million years. Almonds, avocadoes, blueberries, cantaloupes, cherries, cranberries, cucumbers, watermelon and many other best-selling crops all rely on honey bees for pollination. It's estimated that about one-third of the human diet is derived from insect-pollinated plants and three-quarters of all plants on the planet depend on insects or animals for pollination.
Diana Cox-Foster, Professor of Entomology at Pennsylvania State University is leading a team of top researchers, scientists, experts and even medical doctors to analyze the honey bee's DNA for pathogens. This impressive assortment of investigators aptly named "The Colony Collapse Disorder Working Group" has quickly and proudly become the CSI of agricultural forensic autopsies. What they're finding is that we're in "a crisis on top of a crisis." It seems bee autopsies are showing that the bees are not suffering so much from one particular ailment as from just about every ailment: wing virus, sac-brood virus, black-queen-cell-virus and also various fungi and bacteria. The bee's immune systems are severely weakened if not collapsed.
"Pollinators are canaries in the coal mine, and their disappearance is a referendum on the state of our environment-a reminder of the brilliant and frightening interdependence of our ecosystem," says Dennis vanEngelsdorp, Acting State Apiarist for Pennsylvania's Department of Agriculture. "Part of the problem is NDD: Nature Deficit Disorder. Let's reconnect to nature again. The cure is making meadows not lawns. 11% percent of all US pesticide use was in lawns. Lawns are sterile, useless bio-systems. And, think about
getting a beehive!"
Marshall's Honey Farm, where I live in Northern California, is offering workshops for 'WannaBee Keepers" this spring. They also offer 2-hour tours
to educate the
community on bees, beekeeping, honey and honey production. "Homeowners can also help by inviting a beekeeper to install a beehive on their land. If there is room for at least 6 hives, we will install and manage the hives in those backyard locations. We pay a yard-rent in honey. 6 pounds per hive," says owner Helene Marshall. Check with your local beekeeping association if beekeepers in your area are offering these services.
BUY ANNIE'S BOOKS HERE
Urban Sustainable Living

at Olive Barn in Houston, Texas


Buy Garden Girl's T-Shirts, DVD'S and Seed collection at Olive Barn!

If your local Garden Center doesn't carry my products, please tell them about me.

NEW VIDEO FROM GARDEN GIRL TV:
Patti Moreno, the Garden Girl shows you how
to make maple syrup even if you live in the city. Just keep a sharp eye out for sugar maple trees. Click the image and please Rate, Share and Comment on the video!
Patti Moreno, the Garden Girl, shows you a simple way to enjoy fresh herbs all year long. Click the image to see and don't forget to share and comment.
The Angora Rabbit
by Savannah Cavanaugh


E

ven though I like to hang out with my friends and play sports, I have a hobby that separates me from other teenagers my age. I have a love for nature and animals, especially angora rabbits.
Angoras are a long haired breed of rabbit. They are an old breed, first being recorded in 1708 and thought of as a god by the Babylonians. Angoras have been raised for wool, meat and show. There are five different breeds of angora rabbits, the French, English, German, Satin and Giant. The French, English, and Satin come in multiple different colors. The German is not recognized by the American Rabbit Breeders Association and only comes in white.
I first became interested in angoras while I was camping at Searsport Shores and saw a brochure for Fiber College. Fiber College is a weekend event devoted to fibers, spinning and all kinds of fiber art. There was a class called All About Angoras, taught by the owner of All About Angora. I attended Fiber College that September and had a blast, it was amazing. Luckily my mother is an animal lover and has no problem with me raising rabbits, or most other animals This made it possible for me to came home from Fiber College with my first angora, Chilee Boy and soon after added Floyd to our rabbit family.
My angoras are a French and a French-German cross whose characteristics are more German than French, and are raised as woolers only. I got both of my bunnies from a very reliable breeder, at All About Angoras in Maine.
To me, the wool is the more important than show, and I can't even think about eating
them, because I'm a vegetarian. So that answers the obvious question - you don't have t
o kill the rabbit to harvest the wool. Angora wool is the second softest wool, the first being
musk ox, and it has better insulating properties than sheep's wool, and it can absorb 30%
of humidity without even feeling damp!
The wool can be harvested by plucking (where you pull the wool out gently), clipping with scissors (Patti has a great video on it, watch it) or by using shears/razor. You can do anyone of these every three months or when ever the wool is ripe. After harvesting, the wool can be spun right away, unless there's debris in it, then I would recommend carding the wool (Patti has an awesome video on carding too). This fiber can be used to spin or to felt, either way, it is great fiber.
Angora rabbits are docile creatures and they and their wool can be a lovely addition to any lifestyle.



Savannah is 13 years old and lives in Southern New Hampshire with her parents and brother. They have three dogs, 2 mini Australian Shepherds and a Black Lab/Golden Retriever mix. Not to mention a cat, four rabbits, a hermit crab, two parakeets and several tanks of fish.


Check out the Rabbit to Hat Spectacular Below:
WHAT IF??
W

hat if "Global Warming" is a natural occurrence? Many argue that warming and cooling periods have been taking place for as far back as we can measure. Global warming periods have occurred approximately 100,000, 200,000 and 300,000 years ago. Scientific evidence has been extracted from proxy sources such as ice cores, tree rings, coral reefs, sediment layers and rocks. Compiling this data enables us to look back millions of years to determine past temperatures.

Without the "greenhouse effect" the earth would be an uninhabitable wasteland. According to the Environmental Defense Fund, "The atmosphere has a natural supply of "greenhouse gases". They capture heat and keep the surface of the earth warm enough for us to live on.


Here's where the argument heats up. Scientists debate that until recently,
the earth has been good at maintaining
this natural balance of atmospheric gas. However, since the start of the Industrial Revolution, these gases have been building up faster than the earth can remove them. An increase of two degrees worldwide will drastically affect human health, fragile ecosystems, the weather and our economy.


I think both groups of scientists agree that the earth is getting warmer. I am not a scientist. I am not going to try to convince you that Global Warming is real, or not...

What if we could slow this down? What if humans worldwide made a dedicated attempt to lessen our impact on this (natural or not) warming trend? Who knows?


But, what if we looked at our existence on this earth from a different perspective? This is what the "green movement" is about. It is a holistic approach to life in general. "Going green" isn't just about changing a light bulb or purchasing expensive equipment. It's a lifestyle. Intertwined holistically with the air you breathe, the food you eat, the wastes you produce, and the conscious choices that directly affect your health and theoretically, the health of this planet. For instance:

What if you gave up bottled water? Consumer Reports tested 10 leading brands of bottled water and found chemical contaminants in all. Some of these contaminants are known carcinogens. Tap water (although not perfect) is regulated by the federal government to meet safety standards.

What if you pedaled or walked to work while running errands? The Surgeon General and the Center of Disease Control state that physical inactivity poses a serious public health problem. They declare that our health can significantly improve with moderate activity (30 minutes an day). The CDC's latest study reveals that diet and inactivity may soon replace smoking as the leading cause of death in the US.

What if you ate locally grown and seasonally fresh produce when it was available? Research has shown that produce picked (and consumed) at its peak has higher flavor and nutrient content. When fresh, it is loaded with disease fighting anti-oxidants.


What if you cleansed the air inside your home from the very same things you use to get rid of grime? According to the Environmental Protection Agency, the air inside the typical home is 2-5 times more polluted than outside the home. Conventional cleaning agents that contain noxious fumes contribute to asthma and allergies. Research shows that certain ingredients in our cleansing routine interfere with the way our bodies produce estrogen, testosterone and even thyroid hormones. News flash, studies link these chemicals to reduced fertility and obesity in our society.

Refer to www.thegreenguide-magazine.com/thegreenguide/spring2008 for a "scarier than germs themselves" chart that lists the ill effects of household cleaning agents and "health" friendly substitutes.

What if we did these things to improve our health? Would we discard less packaging and therefore improve air quality (pollutants are released in production and decomposition)? At the same time would we conserve water, and energy, two valuable resources? Do you think it is be possible to reduce our dependence on foreign oil and coincidentally improve air quality, grow our bank accounts, and shrink our waste line? What if the health of this planet synergistically coincided with our well-being?

What if this game of asking what if (?) went on "for as long as we both shall live"? It can, with every moment of every day, til' death do us part. Like it or not, we are married to this earth. Question your choices not because she is warming, but for your own good.

What if...?

Square Foot Gardening Tips for March
If you thought February was a busy month, March is that much more so. Whether it's clearing branches and leaves that may have fallen into your beds, or turning the compost pile that's been simmering slowly all winter long, there always seems to be a project for the garden. For me, it's been planting tons of seeds inside and growing them to transplant size under lights. I feel it's getting me into the gardening habit of daily tasks, but also satisfying my longing desire to garden. I hope you're feeling it too.
So, what if you don't have a compost pile from last year? You can start a hot compost pile like Mel mentions and have it done in 60 days or so. Just get a 3'x3'x3' pile going of a diverse mix of browns (shredded paper, straw, dryer lint, etc.) and greens (coffee grounds, fruit/vegetable scraps, flowers, etc.) all chopped very fine. The finer, the faster they decompose due to more sides for the critters to feed on. Look online for more examples of browns and greens. Add those in roughly equal amounts with enough water to dampen a sponge, and it should heat up to 140 degrees within a day or so. When it drops below 130, flip it and break up the clumps while adding more browns, greens and water. Do that weekly and you'll have decent compost in no time!
Finally, as Mel suggests, finding out when to plant things is not always easy. His book does a good job focusing it all in one place. I know I've gone to it a half dozen times in the last month. But you can get the same information from seed packets, the internet, or your local extension office. Whatever you do, get busy and get growing something for or in your garden!
Article By Richard Davies



A Few Words From Mel Himself!



Hey, it's almost time for spring planting. WHEN and WHAT is the key question. WHEN to plant all depends on the expected date of your final spring frost. Who knows that for your area? Your County agricultural extension agent does. Look him up in the telephone book under your County offices and call to get the date.
Then go to my book, "The ALL NEW Square Foot Gardening Book." Look on page 254 for the planting charts. The first one tells you WHAT vegetables to plant and WHEN. It even tells you if you should plant them as seeds in the ground or as a transplant that you either started yourself indoors or bought at the local nursery. Most people just buy their cabbage and broccoli plants at the nursery. It's a lot easier but costs a lot more.

If your planting seeds outdoors, page 252 tells you how long those seeds will take to sprout at different temperatures. If it's too early and cold when you plant, they will just rot in the ground. So, get ready to start your outdoor planting soon and make this the best year ever with your Square Foot Garden!
Mel Bartholomew
www.squarefootgardening.com
Click HERE TO BUY MEL'S BOOK THE ALL NEW SQUARE FOOT GARDENING!
Early Spring Soil Preparations
Winter just blew another round of snow into my Pennsylvania garden. Glancing out the window, the scene is awash with snowflakes drifting and dancing their way to the ground. Even though Punxsutawney Phil (the groundhog) ran from his shadow this year, spring seeds are on their way to my mailbox and I cannot wait to get started in the spring garden!
Many authors and seed packets say "Sow seeds as soon as the ground can be worked." Worked with what? How? The statement refers to the condition of garden soil. Is it still frozen or crusty? If this is true, odds are you will have to wait a few more weeks. When the earth is soft and you can slide a trowel a few inches into garden soil, the ground is ready "to be worked". The "work" part of that statement refers to sowing seeds, or to what many veggie gardeners do before sowing seeds, the double dig.
Double digging consists of sliding a tool (I prefer a heavy-duty garden fork) into the soil by stepping on the hilt. Let the weight of your body push the tool into the ground. Move handle back and forth to gently loosen soil. Repeat down the length of your veggie garden. Next, go back to your starting point, slide fork back into soil, lift loosened soil up and flip over. Use tool to smooth out soil surface when done. If you need more advice on this subject, check out Patti's video on double digging!
Can't slide a digging fork to the hilt with just your weight? Add 3" of compost to your garden before starting the double dig process. This sets you up for success next year. Double digging results in improved soil infiltration of oxygen and water to thirsty plant roots. Double dig each year until you can slide a trowel to the hilt with ease. After a few years, double digging or tilling will exist only in memories of gardens past.
Here in PA, I am betting the ground will thaw in another couple of weeks, though there is always the chance of another chill in late March. A trick to get started early is laying out floating row cover to act as an insulator over the garden bed. Row cover is available from most local independent garden centers. Bamboo stakes hold the row cover off the soil surface. Rocks hold the edges down. Floating row covers create a greenhouse effect and help the ground thaw slightly earlier, so I can direct sow my first seeds around St. Patrick's Day.
Tasty beets, radish, carrot, spinach, and leeks will all be direct sown in soft earth. To sow seeds directly in the garden, make a line in the soil with a small twig. Any old twig will do. If you have a dibble stick or similar, by all means use it. Your goal is to bury the seeds three times deeper than their size. Most spring seeds should be about ¼" deep, but peas need about ¾ inch of soil cover, since they are about ¼ inch in size. Cover the line of seeds with a thin sprinkling of flour to mark their spot. This helps lay out your garden design without sowing seeds on top of each other. The flour will disappear after a good rain, but your seeds will germinate and begin to add the first swaths of color to your veggie garden landscape. I guarantee your harvests will increase from just a little early spring soil preparation. Now get out there, do some work, and get those hands dirty!

Don't forget to visit OrganicMechanicSoil.com

How to test your garden soil:
http://www.youtube.com/watch?v=vx7JjPmsaZc

How to make compost tea:
http://www.youtube.com/watch?v=w1_1Jy5GPno
Please continue to share my videos and website with everyone. Click here to go to my YouTube Channel where you can see 100 videos from Garden Girl TV. Don't forget to rate the videos, comment on the videos, and subscribe to my YouTube Channel so you'll know right away when a new video is available for viewing. Thank you all again, from the sustainable home front.

Besos(kisses),

Patti Moreno, the Garden Girl
Garden Girl | 88 Lambert Ave | Roxbury | MA | 02119
Posted by

Admin
at 12:36 PM
No comments: